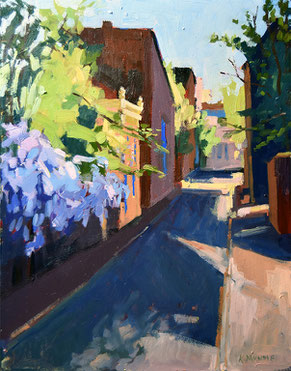 FOR IMMEDIATE RELEASE
DATE: June 15, 2021
CONTACTS: Kate Mundie 267-456-1851, mundieart@gmail.com or Fred Al Nakib 215-922-5155
LOCATION: F.A.N. Gallery, 221 Arch Street, Philadelphia PA
WEBSITE: thefangallery.com
Kate Kern Mundie: Coming Back at F.A.N. Gallery, July 2 to 30, 2021
During the month of July, F.A.N. Gallery in Philadelphia will present Coming Back, an exhibition of Kate Kern Mundie's loosely representational impressionistic paintings.
Featuring nearly forty new paintings, Coming Back is Kate Kern Mundie's first exhibition since her cancer diagnosis six years ago. Mundie had built a reputation for unapologetically colorful landscape paintings while in her 30s with shows, awards, and artist residencies. However, following her cancer diagnosis at 40 and the lengthy treatment and recovery, Kate struggled to find her artistic voice again. Chemotherapy left her thinking clouded and affected her ability to see color. Even the physical act of painting could be exhausting.
In the last three years, Kate has come back into painting and has once again found a bold and vibrant color palette and the use of dynamic light and shadow. With this most recent body of work, she describes her inspiration: "Shadows are what attracts me and tells me this is the thing to paint. The shadow tells the story in a painting, it defines the space. I paint the shadows to dominate the composition and build the painting around them. I love bright and luminous color but I can't show off how brilliant a color is without the contrasting darkness."
When coming up with a title for this exhibition, Kate decided to call it Coming Back. Kate said, "I was back to painting again but was also coming back to myself. After cancer, I questioned why was I an artist? Why did I want to paint? Cancer had left me physically changed and mentally full of doubt. Through these paintings, I found my confidence and acceptance of who I am now."
Kate Kern Mundie: Coming Back is on view at F.A.N. Gallery, 221 Arch Street, Philadelphia, from July 2 through 30. An artist reception will be held on Friday, July 30, from 5 to 8:00 p.m. For more information, please visit thefangallery.com or call 215-922-5155.
Image: Kate Kern Mundie, Cypress Street (Wisteria), oil on panel, 14 x 11 inches