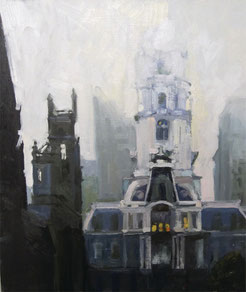 Review from City Paper First Friday Focus by Holly Otterbein @hollyotterbein  Published: 12/04/2012
F.A.N. GALLERY
Kate Kern Mundie captures Philadelphia's offbeat splendor in traditional landscape paintings. In one piece, she depicts a foggy, gray sky over Philadelphia's City Hall with pleasing, chunky brushstrokes. Another painting reveals the stark difference between the tranquil Schuylkill River and the harsh highway circling around it.
Mundie is especially interested in unexpected places of beauty in the city. "You'll be walking past Schuylkill River, with all the highways and bridges, and you'll think, 'Ugh, gross. It's all industrial,'" she says. "And then something about it is beautiful. There's a beautiful shape or beautiful colors."
Mundie, a Pennsylvania Academy of Fine Arts graduate, takes a cue from the Ashcan School painters. The early-20th-century artists highlighted the aesthetics of working-class neighborhoods and urban streets. Many of them also attended Mundie's alma mater, but that isn't why she looks to them for inspiration.
"I was drawn to it because of their bold contrast between light and dark colors," she says.
Like Mundie, some Ashcan artists were also landscape painters in urban settings. That isn't always an easy task. "There are times when we'll go on vacation in New England, and I'll think about how nice it is to just walk out the door and paint," says Mundie. "But the city's nice, too. There's a lot of beauty here that we miss."
Through Dec. 29, opening Fri., Dec. 7, 5 p.m., 221 Arch St., 215-922-5155, thefangallery.com.
Lori Hill of Philadelphia City Paper chose Kate's show at F.A.N. Gallery as the top pick in her "First Friday Hit List" and wrote a nice review, which reads in part:
Kate Kern Mundie's perspective on urban life is certainly beautiful to witness, especially considering her recent shift in work habits. Mundie always considered herself a plein air painter, taking herself and her canvas outside and getting those perfect in-the-moment flashes of light and shadow. However, personal concerns (including a newborn son) have forced Mundie to pack up her easel and take it inside most of the time. While this initially frustrated her, she has learned to simply shift her artistic focus...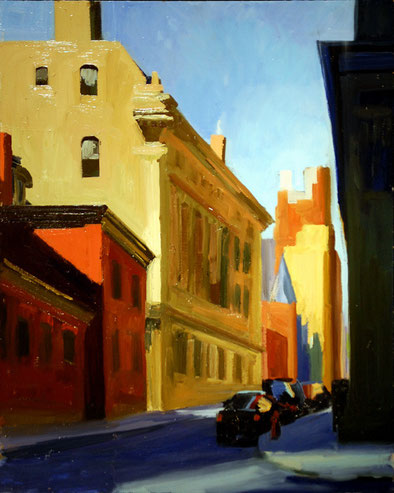 Kate Kern Mundie's recent paintings, at F.A.N. Old school, without apologies by Andrew Mangravite
June 12, 2010 in Art & Architecture
In this exhibit of 33 oils, mostly done on Masonite, Kate Kern Mundie offers up landscape art in the classic American tradition. Rather than pursue pure Impressionism or pure photorealism, Mundie paints in the style that hearkens back to the work of the "Ashcan School" of early 20th Century artists. 

This is a hybrid of impressionist atmospherics but of heavy, earthbound realism in its execution. One senses the weight of the paint bearing down on the Masonite surfaces. 

When Mundie paints seascapes, fog effects, etc. she is at her most impressionistic. In her sun-washed urban studies, the effect she achieves is almost brutal. Her buildings pile up like so many building blocks with nothing added to soften the effect. 

This isn't a show for connoisseurs of painterly effects or suggestive imagery. It's flat-out honest landscape art without apologies.
"Recent Paintings" at F.A.N. Gallery  Published: 08/03/2011
In the middle of this sticky stretch of summer that feels downright interminable, where do artists escape to in their daydreams? Sunny beaches? Ski slopes? An open freezer door? For the most part, so it seems, the hottest months cause inspiration to strike from a place of peace. F.A.N. Gallery's August group show, "Recent Paintings," may not have a dreamy title to back it up, but its offerings are a lesson in zen — from David Bottini's tranquilly vacant fairy-tale scenes to Kate Kern Mundie's crisp nighttime cityscapes, suggesting a Philadelphia bereft of movement. All the humans must be inside, in the air-conditioning.
Opening reception, Fri., Aug. 5, 5-9 p.m., free, through Aug. 27, F.A.N. Gallery, 221 Arch St., 215-922-5155