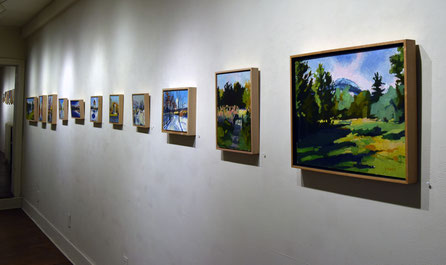 I can't remember the artist who said, "You should try to get 24 rejections a year," but I have taken that advice to heart. I used to apply to shows, galleries, residencies, and plein air events frequently. I don't apply as often now, even though it's easier to apply in the digital age than it was when I was fresh out of art school. We used to have to research opportunities in the back pages of art magazines and then send in slides and a check and hope they sent them back and didn't lose them. Now, it's as easy as uploading a digital image and paying online.
I think the artist's advice to try and get 24 rejections a year seems kind of crazy because that assumes you are applying to more than 24 art opportunities, and most, if not all, of those applications cost money. Those application fees can really add up.
However, applying to shows, galleries, grants, and events is good for your art practice even with the fees. You will learn very quickly if the photos of your work are high enough quality or if you need better photos. Applying to residencies and for grants is a good way to learn how to write about your work. Most residency programs and grants have similar questions, so once you have done a few applications, it's easy to throw together another application.
When I am looking for opportunities and filling out applications, I read the instructions thoroughly. I add all the information to my Google calendar. I add the final due date with the website upload information and any file size requirements. If there is an early application discounted due date, I add that into the calendar and block out a time to complete the application on my calendar. I also add to the calendar the paintings I am applying with. If it is a simple image upload and filling out titles and sizes, I block out about an hour to complete the application. I often must resize images for the application's specific requirements. If it is a written grant or residency application, I block out two hours per page of written text. If you have five pages of questions, then it will take you about 10 hours to complete.
I add selection notification, shipping, and show dates on my calendar. More and more often, selection notifications are posted on the prospectus website or can end up in your email spam folder. Take note of selection dates if you need to log in to a site or check your email. If you are accepted, you will need to know when to ship the work and how long it will be exhibited. Often, we are applying for a show months in advance, and we can forget about them; put them on the calendar. Another reason to put the work you are applying with and the dates of the show is so you don't double-book yourself. I have accidentally applied to more than one show with the same work that would have been shown at the same time. I am lucky that I did not get into both shows. Once I started putting everything into my calendar, I did not have the problem of double-booking my applications.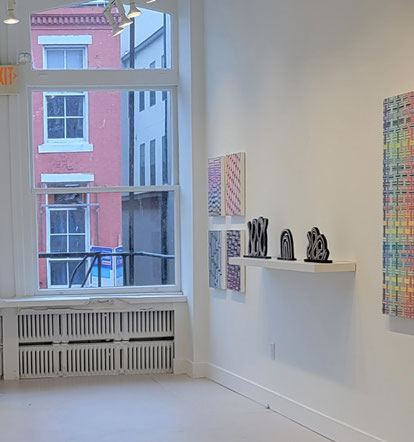 Now that you have put your work out there and applied to various opportunities, sit back and let the rejections roll in. All those application fees are tax-deductible, and your applications have provided you with a body of well-photographed work. You have had time to think and write about your art practice, vision, and goals. Artwork is subjective, and jurors and curators look through hundreds of images and applications. You have done the hard work of requesting that your work be included in a show or your practice supported with time or finances. Whether the juror recognizes your brilliance is out of your control.
Even if you are rejected from an open call exhibition, go to the show if you can. You might realize that your work did not fit with the show, or at least it's a good way to network with artists and maybe the juror. Years ago, I had applied to a gallery that did open calls. I was rejected three times. I was at an opening at the gallery and was talking to one of the gallery employees. She said, "You should apply here," and I told her I had and been rejected three times already. She had no idea and asked the gallerist why. The gallerist said my work was too similar to another artist they were showing. It was good feedback, and I knew not to bother with their open calls anymore. While it was a rejection of my work, it also told me that the gallerist didn't know how to show or market a variety of artists who work in similar styles.
It is worthwhile to apply to opportunities and put your work out there. It's about getting your work in front of other eyes. We have an emotional investment in our work and see acceptance to a show or grant as validation. The goal is to find the right opportunities to apply to but not to be upset if we are rejected. Once we start to look at rejection as a tally mark of how many times we are putting our work out in front of others, the sting of rejection becomes less painful.
Here are some tips for picking opportunities:
Cost - I would not pay more than $35 in application fees.
Juror - Most prospectuses will tell you who the jurors are. Check out the jurors' work, or if they are a gallerist, look at the work they show. If your work or style doesn't seem to fit with their work or gallery, then pass.
Distance - If you get into the show, how will you get the work there? How much will it cost to ship or transport your work?
Timing - Is the show, residency, or event schedule going to work with your schedule?
Application process - How complicated is the application process, and do you have time to apply?