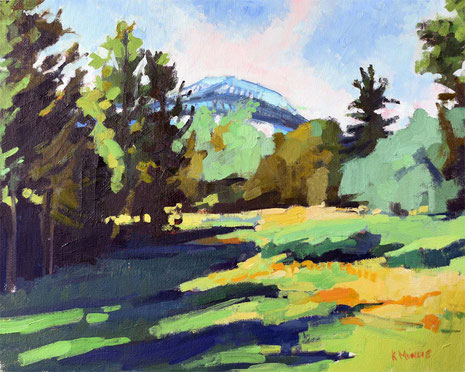 Kate Kern Mundie: Rest
FOR IMMEDIATE RELEASE
DATE:  September 2022
CONTACTS: Kate Mundie 267-456-1851, mundieart@gmail.com or Fred Al Nakib 215-922-5155
LOCATION: F.A.N. Gallery, 221 Arch Street, Philadelphia PA
WEBSITE: thefangallery.com
INSTAGRAM: @the_fan_gallery @mundieart
Kate Kern Mundie: Rest at F.A.N. Gallery, September 2-30, 2022
During the month of September, F.A.N. Gallery in Philadelphia will present Rest, an exhibition of Kate Kern Mundie's landscape and still life paintings explore the idea of rest and rejuvenation. The show features landscape paintings about finding nature in the city and get-aways by the ocean; still life paintings of flowers from the community garden of which Kate is a member; or leisurely drinks at a restaurant.
The paintings document landscapes as far away as Maine and the Midwest and as close to home as South Philadelphia.  Like many Philadelphians during the pandemic, Kate was drawn to The Meadows at FDR Park as a place for aimless rambling. The Meadows is an urban wilderness where water and wildflowers have reclaimed an old golf course. The Meadows became a place to walk and recharge from the stresses of the days during the pandemic. For Kate it became a place to paint.
This show will include 18 paintings from Kate's The Meadows series which captures the landscape over the course of a year. "Every time I went to paint the landscape was dramatically different," Mundie said. "I would paint in the early morning to the sound of birds, frogs, crickets, and the occasional bark of a fox. It is a pleasure and a joy to paint there." These paintings are a time capsule as the open-space park – a wilderness in the city – is currently under construction to become soccer pitches and parking lots.
During the pandemic, we have all tried to find ways to recharge. These paintings are a search for rest and the ability to recharge by walking in nature while staying in the city.
Kate Kern Mundie: Rest is on view at F.A.N. Gallery, 221 Arch Street, Philadelphia, from September 2 through 30. An artist reception will be held on Friday, September 2, from 5 to 8:00 p.m. For more information, please visit thefangallery.com or call 215-922-5155.