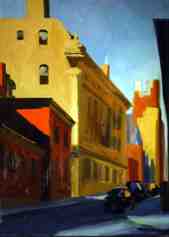 Kate Kern Mundie's recent paintings, at F.A.N.
Old school, without apologies
By Andrew Mangravite
In this exhibit of 33 oils, mostly done on Masonite, Kate Kern Mundie offers up landscape art in the classic American tradition. Rather than pursue pure Impressionism or pure photorealism, Mundie paints in the style that hearkens back to the work of the "Ashcan School" of early 20th Century artists.

This is a hybrid of impressionist atmospherics but of heavy, earthbound realism in its execution. One senses the weight of the paint bearing down on the Masonite surfaces.

When Mundie paints seascapes, fog effects, etc. she is at her most impressionistic. In her sun-washed urban studies, the effect she achieves is almost brutal. Her buildings pile up like so many building blocks with nothing added to soften the effect.

This isn't a show for connoisseurs of painterly effects or suggestive imagery. It's flat-out honest landscape art without apologies.