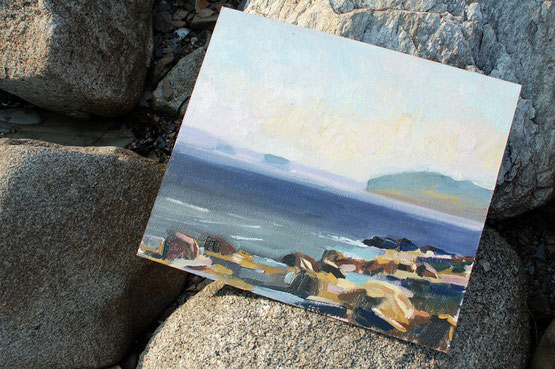 Jim and I were recipients of one of the last artist residencies at the Elizabeth Bishop House in Great Village, Nova Scotia. We spent a week in the childhood and spiritual home of Elizabeth Bishop (1911-1979), former poet laureate of the United States (1949-1950), and winner of the Pulitzer Prize (1956) and National Book Award (1970).
We enjoyed painting, drawing, reading, and taking photos at the house and nearby. It was an inspirational space. The house was full of the work of previous writers and artists who stayed there and books by and about Elizabeth Bishop. The light off the Bay of Fundy and rolling hills of this rural place fueled many paintings.
We extended our art-making trip into Maine and spent another week on Penobscot Bay making more work.
We are back now, finishing work started on the trip, reading back through journal entries and decompressing from a great art making trip.  
Unfortunately, after ten years of providing residencies to artists and writers the program has ended. We feel very lucky that we could work in the wonderful space and around Great Village environs.